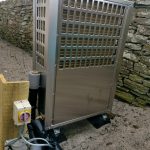 ThreeOrbs are now pleased to be able to offer fully stainless steel air-sourced heat pumps to Orkney residents.  These are an ideal choice for the harsh Orcadian weather, for either new systems, replacements, upgrades or complementation use.  They come with a full 5 year warranty and have an expected operational life of around 20 years.  Output capacities from 6.8KW through to 500KW.  Installed prices from £2,500 (+VAT)*.
With exceptional value and high performance, these fully stainless steel (304) air sourced heat pumps offer a long life in Orkney (expectation of around 20 years), primary heating system source.  Once fully installed by ourselves, your system will also command a full 5 years of warranty.
These Mitsubishi compressor-based air-to-water heat pumps offer primary heating control for room-by-room temperature control via radiators, fan assisted convectors or under floor heating (UFH), with the ability to produce hot water if needed.  With fixed output capacities from 6.8KW through to 500KW, covering a large range heating needs.  Variable output inverter models are also available in systems needing 24KW (or more), offering maximum energy performance by being able to adjust the output to match system demand.
These air-to-water heat pumps do not dry the air, resulting in a more comfortable room humidity level compared with most air-to-air heat pumps.  Using existing, replacement or new radiators, these heat pumps heat your home as a traditional boiler would, without the high energy costs.  With CoPs from 1:3.5 and an ErP energy rating of A++, these offer exceptional price performance.
A CoP (Coefficient of Performance) is the amount of energy put in, compared to the heat energy output.  For a heat pump with a CoP of 1:4, means that for 1KW input, you get 4KW out.  And this also translates to £1 put in and the the equivalent of £4 heat output.  Compare this to a condensing oil or gas boiler where the CoP is 1:0.95.  So for a modern traditional boiler, for every £1 of fuel you put in, only 95p of heat energy stored in the fuel comes out to warm your home.  Effectively  heat pumps provide the convenience of an all-electric heating system, with running costs more favourable than oil or gas boilers. With such a high CoP, the electrical connection is proportionaly smaller.  For a 12KW heat pump, the electrical connection is around 3.5KW.  requiring only a 16A electrical feed.  Smaller heat pumps could be operated from a 13A plug and socket.
The benefit of using an air-to-water heat pump as the primary heating system is that it offers controlled room-by-room heating, where each room is heated individually, and the system can also offer heated (stored) hot water as required.  Primary heating systems are acknowledged by building regulations and selling regulations as a full heating system, unlike many air to air heat pumps, which are not primary heating systems.  These do not heat each room individually, so requiring the room to be heated by pushing warm air through an open doorway.  These can effect the resale value of a property and limit home improvement grants.
We can install these systems covering all forms of installation, including:
New build properties;
Direct replacement for existing hydronic heating source, like a boiler;
Complementation** of an existing hydronic heating system, like a boiler;
Replacement hydronic heat pump, where the existing system has failed or requires other changes;
** Complementation is where the existing boiler is helped by a smaller heat pump.  Most boilers are over sized for the property they are heating, particularly during the summer months, making them inefficient during conditions of low load.  Overall this makes the heating system very inefficient.  Adding a heat pump allows both systems to work together and offer the cheapest energy solution to match the outside weather conditions.  During summer, you will probably only use the heat pump.  During spring and autumn, you use the heat pump with occasional help from the boiler on cooler days.  During winter and really cold days, both the heat pump and the boiler work together to fully heat your home.  With, say, a 18KW oil boiler combined with an 8KW heat pump, running together would give a total output of 26KW.  Other combinations can be dynamically matched to the heat demands of the property.
Modern radiators are now able to deal with the cooler water from heat pumps and so can be sized better to achieve a better output for the size.  Newer designs provide enormous surface areas, in comparison of the wall size, giving excellent output to volume ratios.  With modern property insulation, the heat requirements of each room are dropping too, allowing for much smaller radiators and heat sources.
UFH offers the ultimate in heating experience, with warm floors for your toes, a steady gentle heat for even warming throughout the rooms, with no wall space needed.  However, upgrading to an UFH is not really cost effective for existing installations.
All our heat pump based systems operate and include a thermal buffer tank, for maximum energy performance, which may require the addition of UFH blending systems in some situations.  This is not an expensive addition, and provides enhanced performance where it is needed.
Hot water can be provided to systems with indirect hot water cylinders or set-ups with thermal stores.  Water is heated to 40°C to 45°C by the heat pump.  After which the temperature can be increased using standard immersions automatically to >60°C.  Although the heat pump can not heat the water to equivalent temperature a boiler can, this heating method is still far cheaper than a boiler doing the same task.
Systems are designed, installed, tested and can be maintained for each specific property.  This means you get the highest performance system match as possible, with the minimum of investment.  Typical investment recovery costs are from 3 to 15 years, depending on the installation performed.
Please contact us for a commitment free, free† consultation of your exact heating needs tailored specifically to your property.  You can contact us via here, or via the details at the top of the page.
We also offer oil boiler installs, repairs, commissioning etc.  Along  repairs and maintenance of other hydronic heat pump systems.
* Quoted price of £2,500 (+VAT) would cover the replacement of an existing air to water sourced heat pump that has failed and was correctly installed previously.  The price includes a 6.8KW stainless steel heat pump, a buffer tank, low noise heat pump mounting, minor changes to existing pipe and electrical connections at the heat pump location and labour.  Additional costs may include delivery, and changes to the system to cater for the required buffer tank and so on.  Unfortunately every installation has very different requirements, and the price will reflect the suitability of direct installation.
† Travel expense reimbursements maybe required, dependant on location.